Is it "Horrible, terrible AAU basketball" or a "positive experience"?
Thanks to an article from Marty Farmer, a positive look into AAU basketball. Turns out, it is all about your coaches! Here is his full article re-published with permission:

AAU basketball is often a polarizing topic among coaches, parents and fans of youth basketball.
Kobe Bryant, a retired NBA legend who knows a thing or two about basketball, has a take about AAU that might surprise some people.
AAU hoops certainly has drawn its share of criticism, citing concerns like lack of fundamentals development for players, overzealous coaches and particularly parents, along with blatant corruption regarding college recruiting.
On the flipside, and with all due respect to Black Mamba and other detractors, AAU basketball can produce positive experiences as well.
A prime example of beneficial AAU ball exists locally with the Oak Park-based Respect The Game (RTG) program. Founded by Keenen Anderson, RTG focuses on teaching life lessons through the game of basketball. Derek Murray, a former basketball star at Evanston High School and Harper College, partnered with Anderson to run the RTG West 14U team. RTG West 14U is the most successful of the RTG teams, which range in age from 12 to 17.
No matter what level and age group, the purpose of RTG basketball is unwavering.
"We just want to give kids in the area a chance to play at a higher level and be taught the game the right way," said Murray, head coach of RTG West 14U. "Keenen is a very good teacher of the game and I'm a good coach. The combination works well, coupled with the support of parents who want their kids put in situations to become better on and off the court.
"We talk a lot about academics. We use basketball scenarios to teach the kids about life. If you miss a layup, the everyday analogy in life is you didn't take the garbage out as a kid or you didn't pay your light bill as an adult. We don't talk about everyday basketball; we talk about everyday life."
The message has resonated with the players. RTG West 14U has a 22-4 record this season, with titles won at both the 14U and 15/16U levels. The team also won the Baylor youth tournament and placed second in the Gold Division at the inaugural Junior NBA event in Indianapolis.
Upcoming tournaments include the Gym Rats National Tournament in Fort Wayne, Indiana and the National Summer Classic in Chicago (Aug. 3-5).
Unlike many of the aforementioned overzealous AAU parents, refreshingly there seem to be no delusions of grandeur or vicarious experiences about their kids from the RTG West 14U parents.
"I just want my son Julien to play basketball with his friends," said Jermal Chandler, an assistant coach on RTG West 14U. "There's no other agenda. I don't want my kid on an AAU team because I think he's going to the NBA. I can't speak for the other parents, but I know most of them. I think we all just want our kids to play together, have fun and develop as people on and off the court."
While there may not be any future NBA players on the roster, RTG West 14U is stacked with talent. Several of the players will likely emerge as key contributors on area high school teams and possibly play college basketball. As for the NBA, who knows? But there is precedent with OPRF's Iman Shumpert and Fenwick's Corey Maggette.
RTG West 14U has athleticism, length and speed. The players are also known for tenacious defense, good fundamentals on offense, and high basketball IQ.
Six-foot-five Johnny Vincent and 6-3 Mark Williams provide RTG West 14U with imposing size. Forwards Julien Chandler, Clark Turk, and Rodney Murphy are versatile players at both ends of the floor. Demetrius Dortch, a prolific scorer and playmaker, headlines a talented group of guards, including Max Murray, Sam Lewis, Raimon Yarborough, Justin Mullins and Julian Villegas.
A handful of players will attend Oak Park and River Forest High School in the fall and play basketball for the Huskies. Others will attend and play hoops for schools like St. Patrick, St. Joseph, St. Ignatius and Walter Payton. Fenwick is another attractive option for RTG players.
"Where each kid goes to school is a parental decision. We have no direct affiliation with one school," Murray said. "We hope for the best fit for each kid. If kids decide to attend OPRF, I think RTG is the best AAU program because of our relationship with the program and (head coach) Matt Maloney.
"I love basketball and working with kids," Murray added. "We support our players in whatever they do. If some of the kids end up playing tennis, I'll go to their matches, or if they play baseball, I'll watch their games. It's a family thing with our program."
Like Derek Murray and Keenen Anderson, Jermal Chandler is thrilled at not only RTG's rapid growth but immense potential.
"Keenen and Derek are doing great things," Chandler said. "They have worked tirelessly to create this grassroots Oak Park AAU program comprised of local kids, who are, more importantly, friends. I am glad to be a part of what Keenan and Derek are trying to build."
And while winning doesn't take priority over player development at RTG, the competitive Murray strives for both.
"More than wins and losses we want the young men to use basketball as a tool to better themselves," Murray said. "If we win, we'll take that as well.
"Through our youth organization, we're trying to make Oak Park a pillar of basketball. We have a combination of kids that I believe can put Oak Park basketball on the map."
Considering the traditions of OPRF and Fenwick boys and girls basketball, Oak Park is already identifiable in the landscape of Illinois high school basketball. Fortunately, a good AAU program like Respect The Game helps make sure it stays that way.
Contact:
Email: [email protected] Twitter: @OakParkSports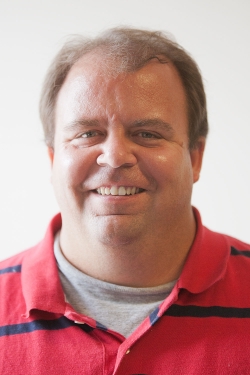 The Illinois Press Association recently honored Marty with the 1st & 2nd Place Awards for Best Sports Feature. Plus, he was given the 1st Place Award for Best Sports Column!