We asked Roger De Boer – longtime high school basketball coach, parent, and business owner – the following question:
What advice/encouragement would you give a parent with a child in youth basketball? 
Take a look at his 4 insights that really will change the way you approach your child, their participation in youth sports, AND your experience with it!
---
Being both a coach and a parent has been an enlightening journey the past few years. One topic my wife and I discuss freely is our appreciation that we waited until we were married ten years to have children. I had coached for 12 years when our first son was born and had already coached for nearly 20 years before he ever played a sport. This allowed us to take a very careful and thorough look at our responsibilities as parents to our sons growing up. And from a coach's perspective, these are 4 insights.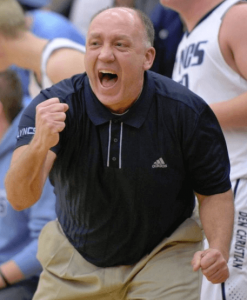 As parents, we must embrace the fact that this is your child's journey – not yours. Do not live vicariously through them. Put your focus on being a supportive and encouraging…."supportive and encouraging" parents can follow some basic guidelines to help their child.
1. Love your child before, during and after the game. Our children live in a performance-based society as is. Our relationship with them and their sports should not be based on their performance. Rather, our kids need to understand that they are loved and valued regardless of the score, regardless of how well they played, and regardless of how much playing time they were given.
2. Love the game regardless of the outcome. We are all competitive beings and that's ok. But youth sports are for development and enjoyment with the importance of winning sprinkled in. Our love for the game should include ONLY encouraging words to referees, coaches and especially the kids…our own AND other players too. We need to love the game for everyone.
3. Model proper communication for your child. Even though our desire is to protect our child's best interest, we must demonstrate how to communicate with their coaches. Teaching your child how to properly handle questions and concerns by directly talking to his/her coach face to face is crucial. Our children must learn to deal with authority and conflict and the earlier the better. We may stand by our child's side but allowing them to advocate for themselves is a major growth point for them.
How we communicate about the coach in front of our children is also important. It is a guarantee that we will disagree with the coach at some point. Our children should never be put in a position of "divided loyalties" between our feelings and the coaches decisions. We must keep a supportive front for the sake of our children. They must see our support for the staff
4. Understand our role in the game. It is so easy to want to "coach up" our child at the game and on the way home. It is so important to understand that our role at games is to be a tremendous encourager. We should not ever coach or yell at our children even during the most intense moments. On the way home our role is to tell our child how much we love watching them play. Again our role is not to be the coach on the way home. We must strive to support and build our child's confidence and convince them how loved and valued they are.
Roger De Boer
Lynden Christian High School Boys Basketball Coach
Co-Owner, Cloud 9 Sports